Un Viaje a Parque Nacional Conguillío, a UNESCO Biosphere Reserve
On Jan. 9th, we left Helen's comfortable home east of Temuco on foot with our 'camping' gear in a duffle bag and with a small backpack with the all-too-heavy telephoto lens and some bits of food. The sky threatened rain. We walked a mile or so to the paved road and soon thumbed a ride the last mile or so to the main road. Soon a bus headed in our direction came and off we went as the threat was delivered with a vengeance. Sheets of rain poured and poured and nothing was to be seen from the steamed up windows of the packed bus.
An hour's wait in a little town called Cunco (named after one of the vanished tribes of southern Chile) lead on to another bus ride to the even smaller town called Melipeuco where we arrived as the rain became more intermittent. Still, it seemed way to wet to venture farther toward the park where we would have to camp. We went into a little shop offering guided 'trekking' and met Christian who is trying, with his friend Sebastian, to start an ecotourismo business.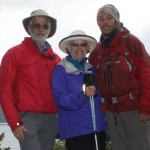 (www.andeswhite.com) We agreed to hire him to take us on a day-long trip to the nearby park the following day. During the evening the rain poured much more and a team of Chilean geologists came into our modest hotel, Hospedaje Icalma, looking cold and resembling drowned rats. But, they were in good spirits and were looking forward to hammering volcanic rocks in better weather the following day.
Early the following morning a wild ride commenced on the jeep roads that lead into this lightly visited park which sits just below one of the most active volcanoes in Chile. Sebastian was driving and successfully dove our 4×4 through multiple car-swallowing rain puddles on the rutted road. The rain was light and scattered, yielding local views such as Arco Iris (Rainbow) Lake with occasional glimpses of the looming high peaks (Volcan Llaima, 3,125 m).
Our guide, Christian, took us on two separate 2-hour walks and showed us many flowers and trees and views of Lago Conguillío. Now we know why the peculiar tree that we have seen here and there in gardens at home is called the "monkey puzzle tree". This tree, the araucaria, is a beloved tree in Chile and it is now illegal to cut them down, though they were heavily logged for hundreds of years. The bark of the mature trees is crenelated, hence the monkey-puzzle name, and the tops are flat because the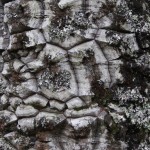 trees drop all their lower branches. They look like umbrellas or tops spinning along the high ridge lines.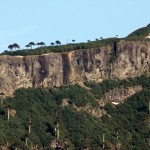 Our guidebook reports that in 1911, John Muir traveled all this way to southern Chile to see and sleep under a giant 3000 year old araucaria.
Christian has a real love for the wildness of this terrain. He is attentive to the plants and to the sounds of the forest and to the needs of us two stumbling trekkers. He speaks serviceable English which is good for us, as our Spanish is still developing, to say the least. Christian spent a winter in Vancouver, BC, working in the ski industry and working on his English. We hope that he can make his new business work.
The previous evening we had dinner in an artisanal restaurant run by an Indian family from the local group called the Mapuche. The food was very unusual for us and included an omelette stuffed with quinoa and another stuffed with (little local spherical mushrooms here called digueñes that were pretty tough to eat because they were very soft and squishy. (Leslie happily gave Val most of hers…..!) We also had a salad of tomatoes, lettuce and a pickled plant resembling bamboo from the local forest. Christian showed us this plant on our hikes; it is everywhere here and is called colihue (pronounced co lee way).
At the center of the park there is a camping area with a concession renting kayaks, etc. We asked there about the possibility of getting a ride out of the park the following day and we were assured that the daughter of the operator would take us out "for the price of fuel for her car". So, off we went with our guides (Christian and Sebastian) and two of the park workers to set up our peculiar backpacking arrangements. Lots of helpers appeared to help us set up our tarp tent for its first real camping test.
Val sewed up the tarp a few weeks ago by following a kit with material and instructions from Ray Jardine (www.rayjardine.com). Instead of sleeping bags we have a lightweight sleeping quilt which Val also built from a Jardine kit. Jardine's idea is to have much lighter equipment than conventional backpacking equipment, an idea that resonates with our 69 year-old frames!
After a warm-enough night (sleeping in our clothes makes starting in the morning very easy!), we met Catalina who took us on a very interesting trek.
We went through dense stands of colihue and emerged into the forest of giant araucaria trees as well as another giant called coigüe (coy e way). Cata, as she calls herself, speaks quite good English and is extraordinary, in our judgment. She is in love with trees! Her mother runs some sort of landscaping business and her father is running the concession in this park. At this moment in her 23 year old life, she loves the woods and being alone there above all else. We wonder a bit about the being alone part because Cata is so outgoing and extravagant in her verbal and physical manners and her frequent and exuberant laughs. She views a featureless sea of green and turns with excitement to tell us about different lichens, fungi, leaf shapes and flower parts. A botanist in a nearby city has been advising her and teaching her Latin names for the many species that she photographs and about which she exclaims. She hopes to make a book about the plants in this park.
While Cata taught us much about the shrubs and trees of this high montane zone, Val taught her a bit more about using the excellent Nikon camera that she had recently acquired. After showing her a bit about manipulating the ISO setting and the speed/aperture settings, she took some pictures of sharp boulders with flowing soft water coming down the Bridal Veil waterfall that we were standing below. With success she beamed that "a whole new world has opened for me!".
Cata drove us back down out of the park crossing immense fresh (2008) lava flows, with the fuel gauge beeping on the steep downward parts. Upon reaching Melipeuco, we paid her about $40 for the 'trek' and another $20 for the drive out of the park. Leslie gave her some motherly advice: buy some fuel now and meet a great guide named Christian who seems to share so many good feelings for the environment.
Here is a gallery of photos from this national park.  Click on the image below.
[shashin type="album" id="4″ size="small" crop="n" columns="max" caption="y" order="date" position="center"]