What a unique adventure we have had for the past ten days as we slowly worked our way south to the last remnant of the Panamerican Highway on the southern tip of the island of Chiloe!  We'd been drawn to the island from glorious reports by our San Juan friends, Lumi and Pedro, and from reading various books. Check out this map (North is to the left!);
Chiloe is roughly 160 km by 60km and is about as far south in latitude as San Juan Island is north, giving both islands verdant countrysides because of frequent precipitation. But that's where the similarity ends, as Chiloe is pounded by the Pacific waves and wind on its remote west coast and has its distinctive character as a result of its relationship to the water that surrounds it.  It's been declared a UNESCO World Heritage Site because of its numerous wooden churches and boasts many homes covered with Chilote wood shingles of many configurations called tejuelos. Colorful houses perch on stilts at the edge of the water (palafitos), and people relish a meal of curanto, the tasty indigeneous stew made of seafood, meat and potatoes baked Polynesian style above a fire in a hole in the ground. Finally, there is an unusual spiritual culture on the island which is based on a particular mythology.
[shashin type="album" id="11″ size="small" crop="n" columns="max" caption="y" order="date" position="center"]
The residents of Chiloe are incredibly friendly. We often have questions for hostel owners, shop owners, museum staff, bank clerks or market and street vendors, and people are consistently eager to help in any way. Staying in budget to mid-range accommodations gives us the "odd couple" image around the common area breakfast table of a hostal frequented by talkative youthful backpackers. We find ourselves wondering about why there are not more Americans traveling in Chile, and why there aren't more our ages (we've met only two Americans so far, and they were our age). In Castro, halfway down the east coast of Chiloe, we asked our hotel proprietor where we might get a haircut, and she immediately gave us complicated directions in Spanish on how to get to her recommended peluqueria off the main plaza. (Haircuts are a risky business. The previous evening we had run into the author of our Lonely Planet Guide to Chile, Kevin, who is working on an update to the guide. And, he had told us horror stories of haircuts around the world. A haircut in a gas station in India stands out….) So, off we went, Val going first, and Leslie following suit, with both of us smelling of Brill Cream as we departed in our shorn states.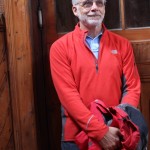 Our helpful agritourismo owners gave us excellent recommendations on where to hike off the beaten path. Mirella, in the tiny town of Tenaun with its charming blue and white church, had her husband take us to the nearby remote island of Mechuque in his small fishing boat. We walked the narrow paved paths, getting behind the scenes at an enthusiastic weaver's house, and having coffee in a shop owned by an outgoing young man who collected Chilean antiques and played Victor Jara (the singer-songwriter murdered by the Chilean dictator, Pinochet) melodies on his guitar.
[shashin type="album" id="10″ size="small" crop="n" columns="max" caption="y" order="date" position="center"]
We also discovered a great out-of-the-way hospidaje outside the tiny town of Chepu, north of Parque Nacional Chiloe. The friendly family of Enriqueta, Fernando and Vanesa Mansilla Carcamo gave us delicious meals, lots of laughs and good advice on a local hike to caves on the Pacific. The trek was quite challenging with its varied topography: bumpy, lumpy road; fording streams; crossing sand dunes; forging through rough and uneven turf with huge -leaved nalca plants (one surprised Val and threw him to the ground….); bird-watching; and walking along the beach before visiting with native fishermen and checking out the caves at the end of a very long and beautiful beach.
[shashin type="album" id="8″ size="small" crop="n" columns="max" caption="y" order="date" position="center"]
At Quellon, with the help of some youthful interns at the office of Parque Tantauco, we made reservations to stay in a "domo" because it seemed too wet to camp. Once again, we took a very long (38 km) rocky, rutted dirt road into the northern part of the park. We dodged some trucks,  some chickens, some sturdy oxen, and ended up at a well-appointed campground, where another young staff member knocked on domo doors until he found some empty space in the Pudu domo. Each dome structure has 8 bunk beds, and we shared space with a pleasant young couple from Santiago. Given that we did not have our traditional sleeping bags, we spread out our sleeping quilt on a lower bunk, and later crawled under it, one of us at each end of the bunk bed. An unusual arrangement, but it worked. Nearby, we heard the large extended Santiago family we'd met earlier partying near us until after midnight, children included.
The next morning we took a long hike through rolling hills which are slowly revegetating themselves after a devastating fire in the 40's. We saw several viveros, or greenhouses, where staff are growing native plants in an attempt to restore this biologically-sensitive area. Up and down we went, along trails made of old logs, through marshy swamps on elevated walkways, along winding trails with intermittant spongy soil, until we came to the cascadas, for which the trail was named. This park is  the brainchild of the current president of Chile, Sebastián Piñera . In retrospect, it might have been better to go by boat and enter the park at the southwestern side of Chiloe, but the cost seemed too much and we did not have enough time. Perhaps we can do this later.
[shashin type="album" id="9″ size="small" crop="n" columns="max" caption="y" order="date" position="center"]
Pinguinland Cabanas….the name sounded quite touristy, but the guidebook gave it high marks, so off we drove on muddy and rutted roads, thanking our lucky stars for a car with high clearance. There was no one at the "reception desk", so we parked the car on a bluff and took our picnic lunch to a nearby overlook. The view was amazing, with the advertised penguin colony off to the west, and picturesque haystack rock formations reminiscent of the Oregon coast below us and off to the east. After our usual sandwiches of cheese,cucumbers, avocados and tomatoes, we went to a nearby restaurant which was also owned by the owners of the cabins. En route to the cabin, we were rewarded by seeing our first pudus.  A tiny mother deer and her new, speckled baby were busily munching on leaves of potato plants in the garden. We watched them for a long time; the baby hid in the shade of the tall leaves, but the 40 cm tall mother pudu continued to eat voraciously. A special treat for us.
But we were at Pinguinera Punihuil to observe penguins, so we continued to the beach to search out a blue whale scientist named Barbara Galletti, and to view the penguin  breeding colony of the numerous Megellanic and near-extinct Humboldt penguins. We hopped in a local fisherman's boat along with another large Santiago family, and off we went. Tours in this protected reserve leave every 15 minutes, and are highly regulated by the local community. Boats, which carry a maximum of 20 people, are quiet and unobtrusive, and penguins are viewed at safe distances.
[shashin type="album" id="12″ size="small" crop="n" columns="max" caption="y" order="date" position="center"]
We eventually found Barbara of CCC (Centro de Conservación Cetácea, http://www.ccc-chile.cl ), and learned much about the protected area and the ever-evolving issues involved with a proposed windfarm on the beach nearby. Evidently Chile and Sweden have gotten together to propose a new "green" project to bring hydroelectricity to the mines of northern Chile. Unfortunately the very cheap land that they've acquired and the proposed windmill project have not had an environmental assessment. Besides interupting the feeding grounds of blue whales and numerous other marine animals, the dunes would be affected, as would the archeological sites that are under the sand. So…., we have found our volunteer project! We will work with Barbara and her coworker on the many conservation challenges of this controversial business proposal in a fragile habitat of Chiloe.
[shashin type="album" id="7″ size="small" crop="n" columns="max" caption="y" order="date" position="center"]