After two or so weeks at home with gray skies and dark thoughts about the future of humanity, the sun reappeared and we decided to keep ourselves 'safe' by sheltering with Cat's Cradle. The south wind was light but it was strong enough to push the boat and off we set, headed north. But, not too far north, as the border with Canada for cars, boats and people has been closed and likely will remain so for a long time.
We took five days to travel just about 35 miles. First, to the north side of Stuart Island (Prevost Harbor), then to Patos Island (lots of wildlife and scenic views here), and then back to home on San Juan Island.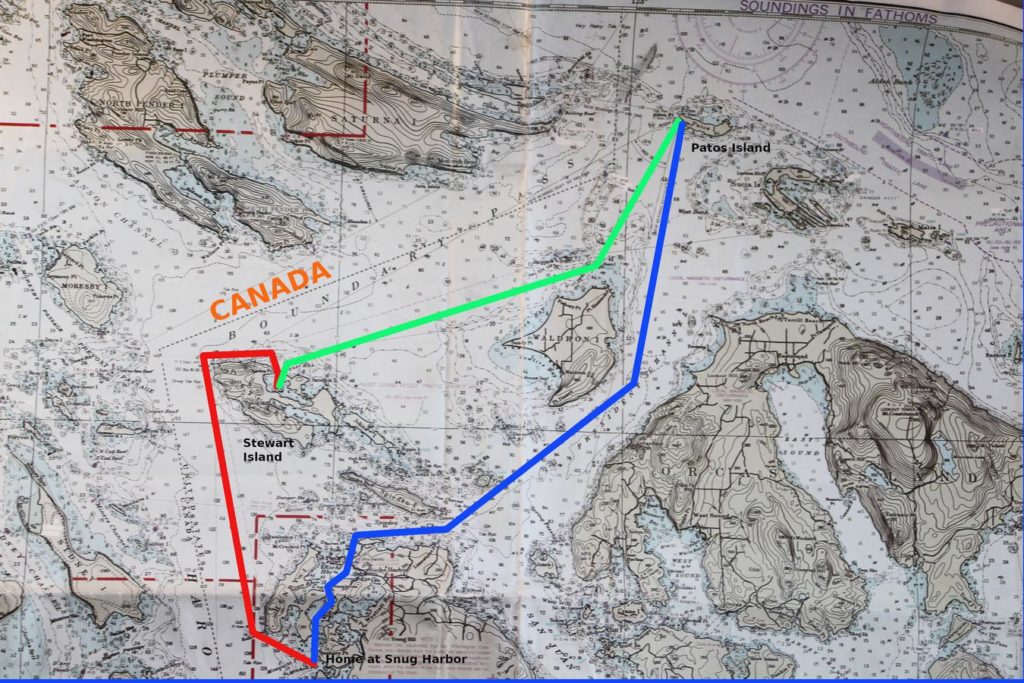 In those five days we saw only two people: a Washington State Park Ranger who told us we could stay at the 'closed' park (and we could tie to one of their two mooring buoys), and a fellow from Whidbey Island. There the virus is much closer to his home than the virus is to us here in the San Juan Islands, where there are only twelve positive cases and no serious ones – so far.
It seems that by 'closed', Washington State Parks means that the campgrounds, toilets and the pay station are all closed. We assume we could have anchored and we were allowed to take our dinghy to shore and walk the verdant trails, either paralleling the shore or walking through the dense evergreen forest thick with salal. We saw no one else on this quiet island for three days.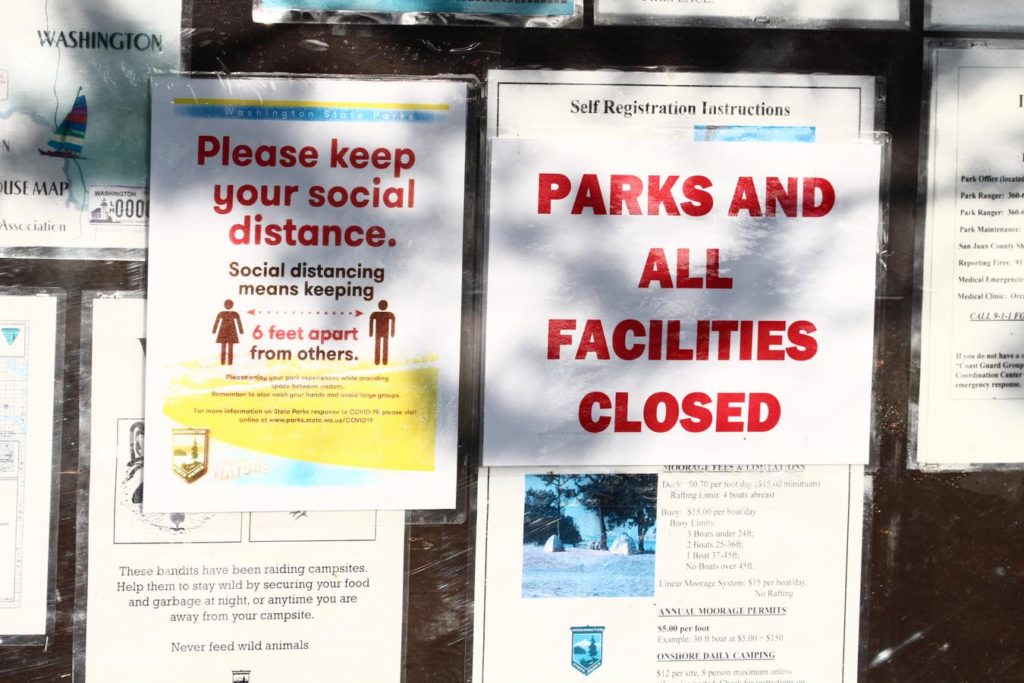 Patos ("Duck" in Spanish) is aptly named. We hiked the trails which frame the perimeter of half the island, and saw numerous diving and dabbling ducks. We also had the noisy company of a pair of Canada Geese, a resident immature eagle, and a group of vigilant harbor seals. At sunset on our last night on Patos, just off the picturesque lighthouse at Alden Point, we watched a raft of huge Steller Sea Lions, alternately resting or thrashing in the Straits of Georgia.
Here, we are nearly the only humans. As we neared Patos, a U.S. Coast Guard cutter did give us a visual inspection from about 100 meters away on both sides of Cat's Cradle. As they approached our boat, we waved rather hesitantly. They did not wave back!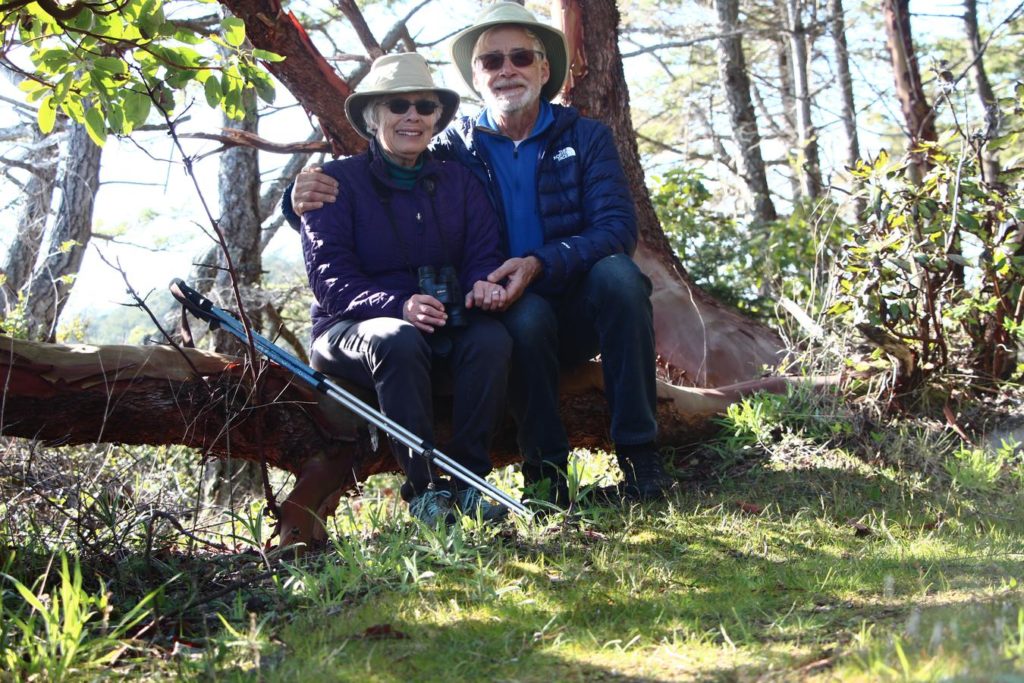 All around us wild nature is waking up to spring. Reproductive acts of various species are in the air, in the water and on the land.
What follows are galleries of photos. Taking photos and curating them into this collection has buoyed us in these uncertain days. At this time nearly every human on Earth, for the first time ever in human history, is focused on this pandemic and other humans. All of us are concerned about the safety of family and friends, the fear of infected others, the perfidy of leadership in some nations , and how and when this pandemic will end. We will get through this, regardless of the challenging tack we take. Stay safe and healthy.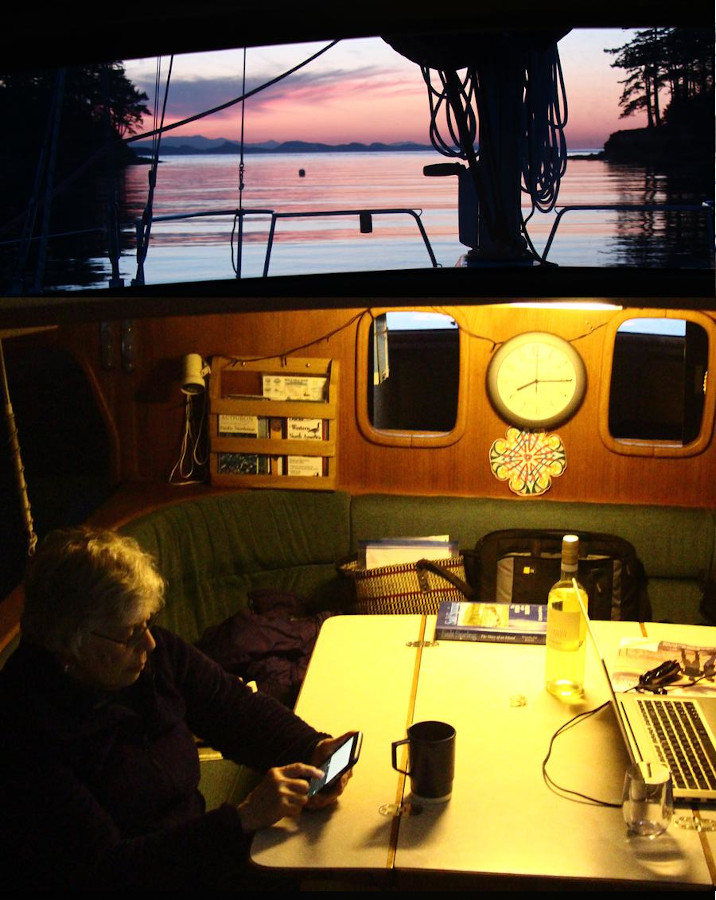 We have a small underwater drone and here are a few photos of the drone and some taken by the drone.
Thanks for staying with this inordinately long blog entry. We guess this became so long because of the time we find on our hands during this COVID-19 pandemic. Do take this time to be safe and to take care (virtually) of family and friends.