After two days on the Great Ocean Road and in the Eucalypt forests, we violated all Australia travel rules and overlooked many overlooks . We drove and drove through extensive sheep farms and croplands with weird storage silos.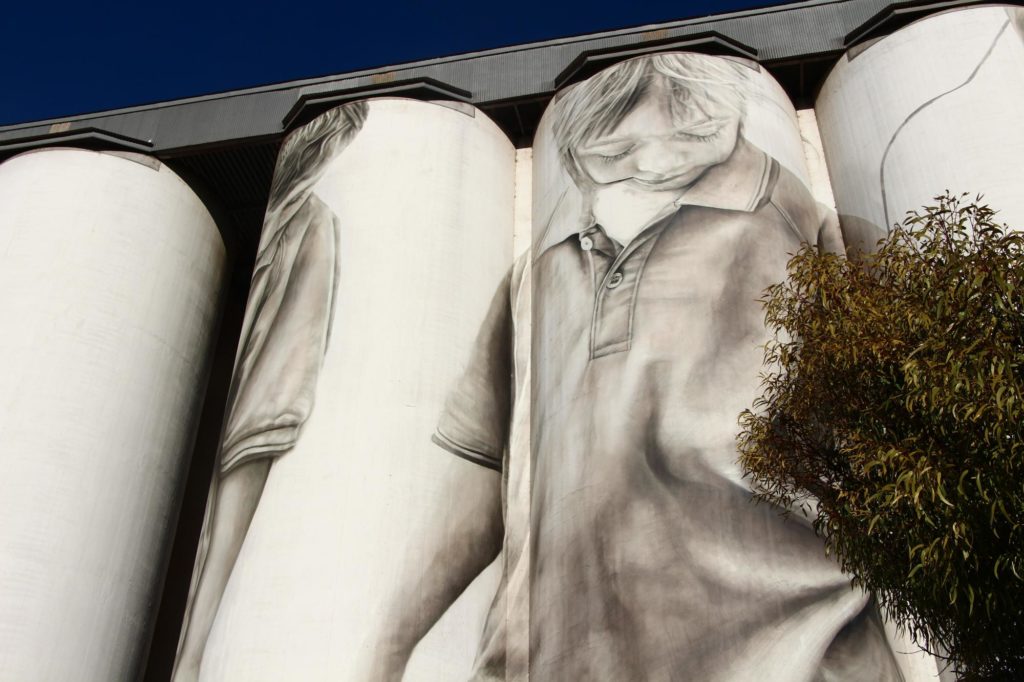 Eventually night fell, yet we continued on – watching for (actually hoping against hope for failure) kangaroos as we sped along at 110 km/hr on a narrow two lane highway. Headlights of opposing cars eclipsed our vision all too often, forcing us to drive ever farther to the left while squinting and hoping that we would avoid hitting a kangaroo.
The next morning we had only a two hour drive to get to the McArthur homestead of Sue, Tim , Monika and Hastings in the hilly farm country south and east of Adelaide.
Sue is the mother of Tim, and Tim is a cousin of Tory, Annie's (Scott's wife) great friend. These wonderful people showed us around their sheep farm (no sheep at the moment).
Sue rode with us and we followed Tim to where we had lunch at the top of a nearby mountain. Here is the view from the top of Mt. Lofty looking down over Adelaide and on to the Southern Ocean.
We then headed into the forest to search for koalas with a prize of ice cream to the first spotter. It may not surprise some of you that that first individual was Cora! Here are her first photos of a 'koala in the wild'.
We then visited the nearby Cleland Wildlife Park where Hastings, age 4.5, knew where every animal in the park was to be found. He enthusiastically guided us from wombat to Tasmainian devil, to dingo, to kangaroo and more.
Val failed on multiple attempts to pay for lunch or pay for the entry to the wildlife sanctuary – as Sue kept claiming the high ground. If we happened to live close to Sue, we think that we would become great friends because of our many common interests and philosophies.
Night found us in Victor Harbor back on the Southern Ocean where we stayed at the charming and unique Anchorage Guesthouse. We enjoyed a late dinner, entertained by an unusually gregarious waiter. Cora and Leslie ordered mint hot chocolate. It came as a cup topped with white foam and lots of shaken chocolate. Asked how it was, we both replied that it was a little heavy on the mint and quite light on the chocolate. He returned to the bar and came back embarrassed and convulsed by laughter with his friends behind the bar. Turns out that he had never prepared this beverage before and had poured way too much mint syrup into the hot milk in our cups and had not added any chocolate other than the bit scattered on the top!